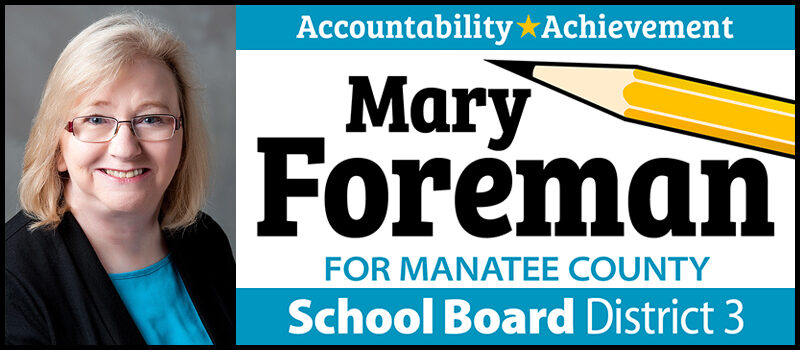 Mary Foreman for Manatee County School Board – District 3
Bradenton has been home for Mary and her family since 2001. Mary received her bachelor's degree in Accounting at Florida Atlantic University and worked as a CPA until her retirement in 2019. She and her husband, Gary, have been married for 45 years. Their two children, John (graduated Manatee High School 2009) and Kate (Bradenton Christian School, 2005), have both gone on to earn advanced degrees and have professional careers.
Mary has been a member of the Manatee County School District's Audit Committee since its inception in 2013 and previously served as its Chairperson. Accordingly, she has deep familiarity with the district's budget and operations. Mary is uniquely positioned to make sure that money for education is used for the greatest benefit of the students.
Having volunteered countless hours reviewing the work of the district's auditors and making recommendations to the School Board based on the audit reports, she has worked tirelessly to ensure accountability. In addition to active involvement in her children's education, Mary was a member of the Manatee County High School SAC for 2005 through 2009 and served as its Treasurer for three years.
As a member of the School Board, Mary would bring financial experience and attention to detail to the district's $851 million budget as well as a parent's concern for the success and well-being of our students.
Support Mary's Campaign
Our secure online donation feature is now available.
Political Advertisement paid for and approved by Mary Foreman for Manatee County School Board, District 3