The Parking Lot Measurement
In 2013 when Rick Mills was hired as the superintendent of the Manatee County School District, he introduced financial recovery action plans designed to correct a deficit in the fund balance of $7.5 million and bring the balance to $10.3 million at June 30, 2014. That was a large task and many people lost their jobs with the district.
As part of the recovery, the School Board also assembled a group of CPAs to volunteer to serve on its Audit Committee. This committee would oversee and advise the board on the annual financial audit as well as numerous internal audits. Having observed the financial meltdown as it was happening, I was one of the first to volunteer to serve on the committee.
We assembled in a conference room in the downtown School Support Center. Arriving for our frequent meetings usually held at mid-afternoon, one could easily find a convenient parking space. During that period the committee would frequently hear from financial staff how short staffed they were and how their archaic ERP system required many manual computations using Excel spreadsheets.
After his first year, Superintendent Mills made good on his plan and the general fund balance was once again in the black. The Comprehensive Annual Financial Report (CAFR) reported that the number of administrative personnel declined from 210 to 197. The following year, it declined further to 190.
After a contentious tenure with the district, Superintendent Mills resigned in May 2015. In the years that followed, the administrative personnel started its new growth spurt.
| | |
| --- | --- |
| | Administrative Personnel |
| 2015-2016 | 227 |
| 2016-2017 | 313 |
| 2017-2018 | 316 |
| 2018-2019 | 362 |
Source: "Comprehensive Annual Financial Report," The School District of Manatee County, Florida, for the fiscal year ended June 30, 2019, page 168.
That's an increase of 72% from the 210 employees in 2012-2013 to 362 in 2018-2019. And "the number of instructional personnel during that same period?", you ask. An increase of 24% (2,861 compared to 3,545). Increases in instructional personnel outpaced student growth of 8.2%, so, without a doubt, some of the increased revenue has been directed to the classrooms.
To compare it to other similar sized districts, the Florida Department of Education's website reports Total Administrative Staff 2019-2020. Ranked by the number of students, the list shows just how bloated this District is.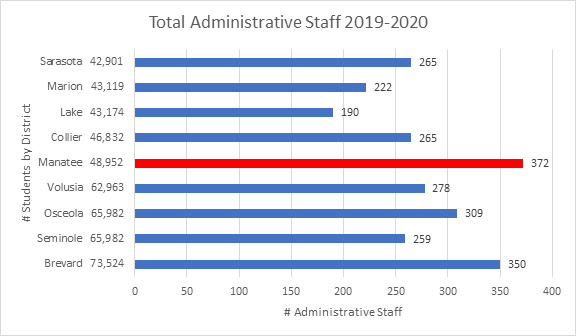 There should be no reason for Manatee County School District to require more administrative staff than Brevard County which is a much larger district.
When I now drive to the less-frequent audit committee meetings, the parking lot looks like Publix on the Saturday before Thanksgiving. I don't mind the walk, but I do mind the amount of taxpayer funds represented by all those cars. There's a balance that needs to be restored. And that requires a school board that will watch out for these increases. I ask for your vote on August 18.
Mary Foreman
Mary Foreman for Manatee County School Board, District 3
mary-foreman.com